Gutter Installation Specialists
Every house needs a functioning gutter system to protect the structure, foundation, landscaping and yard. Doughty Enterprises has installed countless gutter systems in the area and we consider ourselves gutter installation experts. Whether your house is big or small, we can install a system that will keep it and your landscaping protected from pooling water.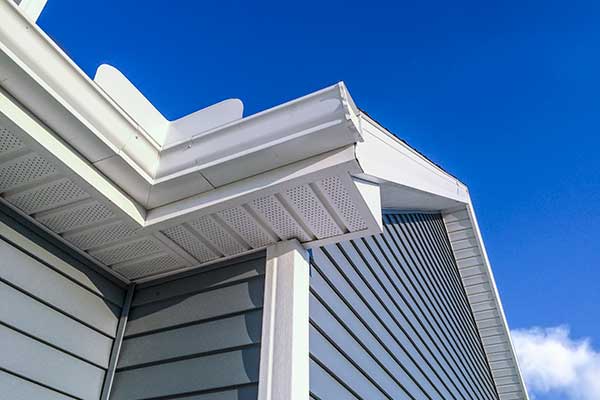 Seamless Gutters vs. Sectional Gutters
If your house has older sectional gutters, we urge you to consider replacing them with seamless gutters. You will be impressed by how nice they look on your home. Sectional gutters leak, are commonly made of low-quality material and they form those unattractive black streaks in the cracks. The cracks trap debris.
We install seamless gutters and our customers love them. Here's why:
They're easy to clean.
They come in seamless, solid pieces crafted to fit the roof perfectly.
Our gutters are made of very durable material.
Clogs and leaks are rare.
They require very little maintenance.
When you schedule a free gutter estimate with us, we will explain the benefits of seamless gutters, see what needs to be done and give you a price. Doughty Enterprises can install a new gutter system in as little as one to three days, depending on the size of the house.
A Final Word on Gutters
We proudly install our own gutters instead of hiring a gutter subcontractor. The best time to install new gutters is before re-roofing, so if you're scheduled for re-roofing services, we suggest replacing the gutters at the same time. This way, we can install them correctly and during the right part of the roofing process.
Contact Us Today
For more information on gutter installation or to schedule a free estimate, contact Doughty Enterprises at (707) 566-0146 or fill out and submit our online contact form.